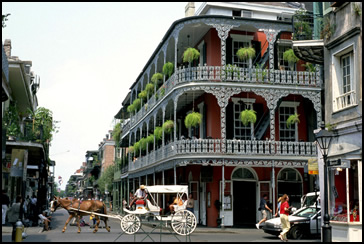 With Hurricane Isaac on a trajectory to New Orleans this week, we'd thought it was a good time to reflect on the story of the song "Vieux Carre" which was influenced by the aftermath of Hurricane Katrina. The song was also influenced by a family vacation that we took to the Crescent City just months before that tragedy, and the extraordinary differences between good times and bad.
That November, 2004 trip was our first to New Orleans. We had a planned vacation to Orlando during Thanksgiving week but decided to start off in New Orleans so my son and I could catch our beloved Broncos who were playing the Saints that week. Naturally, one of the first attractions we wanted to see was the famous "French Quarter" and I remember driving down Interstate 10 and seeing an exit for "Vieux Carre". My wife, who speaks and reads French pointed out that is where we wanted to go as Vieux Carre is the original French title of "old square" for the neighborhood. Well, anyway we enjoyed our trip, had lots of fun, and the Broncos handily defeated the Saints.
About nine months later Hurricane Katrina hit New Orleans and, like most people, I was horrified by the images of people trapped for days in the flooded city in the aftermath. One image in particular that chilled me to the bone was footage of refugees who had climbed onto the elevated interstate to get above the flood waters and were trapped in the sweltering heat under that same large green exit sign that read "Vieux Carre". This, coupled with the horror stories of conditions inside the Superdome (a major evacuation center and the place where we saw the football game in 2004) moved me to write a song about the tragedy.
I originally wrote the song on piano in early 2006, while I was writing a lot of material for Imaginary Lines, but I never really intended to use the song for that project. Three years later, I introduced the song to my band Animal Society, and we worked out a new arrangement. It was recorded for our debut album in 2010, with the mix greatly inspired by the 1980s sound of the band Zebra, who ironically originated in New Orleans.
Listen to the Song:
[audio:AS/02-VieuxCarre.mp3]
Ric Albano