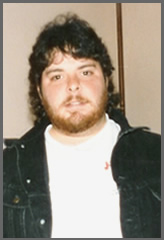 Ric Albano was born and raised in Hazleton, Pa. At an early age he was a big fan of Johnny Cash, saw him for his first concert at the age of five and would mimic him when he got his first guitar at age six. As he reached adolescence, Ric became a dedicated listener of classic rock, especially Led Zeppelin, Deep Purple, Rush, and The Doors.
In 1984, he purchased his first instrument, an odd hybrid of electric piano and harpsichord and about a year later he joined his first rock band, Running Wild. Together they wrote a handful of original songs that they played at their first gig about a week before high school graduation. About a week after graduation, the band promptly broke up.
Ric got interested in songwriting and recording. He slowly began to acquire musical instruments – electric and acoustic guitars, bass, drums and percussive instruments, harmonica – all of which he slowly taught to himself. Using a Fostex 4-track recorder, he developed a makeshift home studio and would ultimately write and record nearly 300 songs under the pseudonym RAREx between 1987 and 1996. Influenced by prog-rock acts such as Pink Floyd, Jethro Tull, Zebra, and Yes, these songs were experimental, adventurous, and eclectic. Some were quite interesting and some were downright disastrous, but due to the limited, semi-professional recording quality, none of these songs were ever released publicly until the digital-only release of Wahray and Soul in 2011. There were a few of these old songs that would be used as direct influences or templates for Animal Society songs a couple of decades later.
During this analog period, Ric was also involved in several other activities. In 1989 he received former training in audio engineering and briefly worked and recorded in a professional studio in Ohio. Later he would provide live sound for several Pennsylvania bands, including The Badlees, during the period immediately preceding their national breakthrough and large arena tours. Ric was a performing member in series of short-run bands with names such as Onyx, Misery Loves Company, and The Steel Breeze, in which he, at various times, played on guitar, drums, keyboards and/or vocals (ironically, he would not play bass in a band until Animal Society was formed, several years later). He also briefly performed as a solo acoustic act under the name Snake Simpson.
Starting in 1997, Ric took a long hiatus from writing and recording original music to focus on domestic life and working towards a college degree. During school, he subsisted as a disc jockey in Northeast PA under the name Dr. Jones until he received a Bachelor's degree in Computer Science from Bloomsburg University in 2002. In late 2003 / early 2004 Ric began a project to digitally "refurbish" some of the better RAREx recordings for a possible public release. However, he eventually decided that the best course of action would be to start from scratch with new material.
After relocating to suburban Harrisburg in 2004, Ric started a concept project called Imaginary Lines. He built a new digital home studio to record a demo and chose Saturation Acres studio, owned by Bret Alexander and Paul Smith of The Cellarbirds, for the high-end professional recordings. In 2005, he recorded and released Imaginary Lines I with Alexander on guitars and Ron Simasek on drums. This was followed up with a second release, Imaginary Lines II in 2007. Soon Ric decided to complete the Imaginary Lines project with a super-sized 33-song compilation of everything from the first two albums plus new and unused material. Future band mate, Erik Trabert provided guitars for several songs on this final phase while Simasek remained the primary drummer and Janet Rains of M80 added vocal support. The result, Imaginary Lines 33 was released internationally on September 9, 2009.
During the Imaginary Lines years, Ric developed the independent label Cygnus Wave. In 2008, he co-produced Not One of You by 1980s new-wave band Hormoans, using archived studio recordings that Ric digitally re-mastered and released on the Cygnus Wave label. He also went on some musical tangents, writing material for other potential projects beyond Imaginary Lines. One of these projects was called "Americana on Acid" while another was called "Searching for the Perfect Sunday". Songs from these projects may be used for a future project.
In late 2008, Ric formed the power trio Animal Society with guitarist Erik Trabert and drummer Matt Roy. Ric provided bass and vocals and wrote or co-wrote much of the band's original material. In 2010, he produced the band's debut album Any Atomic Lies, before Animal Society disbanded later that year.
Ric also lent his talent to many charitable functions. When his sister-in-law suffered a massive debilitating stroke in 2007, Ric helped organize Dollars for Diane and was involved in all three benefit concerts, performing solo in one and with Animal Society in another. He also developed a website for this cause with future band mate Matt Roy, which was integral in collecting online donations. In late 2009, Ric and his wife Karyn produced a compilation album using donated songs from some of Pennsylvania's finest artists. For this project, Ric wrote and produced "Song for Diane" which
was recorded at Saturation Acres by Diane's cousin PJ Heckman.
Currently, Ric is a writer, web designer, husband, and father of four. He has written several reviews for the music site DAMESofPa.com and is editor of his own sites Modern Rock Review and Classic Rock Review. In March 2009 he started his own design firm, 33 Dimensions LLC, which is the developer and owner of Cygnus Wave.